Java Developer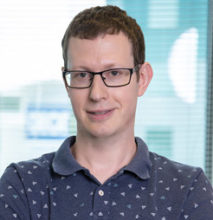 Michal Vojtíšek
Java Architect & Team Leader
I'm looking for a teammate who knows something and wants to do the proper things he likes to sign. Just like me. At AspectWorks we are really developing at the level. I went through a few companies, so I have a comparison.
Contact me at:
michal.vojtisek@aspectworks.com
What awaits you?
start of the internship: 2nd week in July
work on a real project under the guidance of our experienced colleagues
functional-based programming
creation of technical documentation
design and creation of unit tests
responsibility for the implementation of coherent functional units
earn extra money while studying
you choose your working time yourself
the possibility of continuing cooperation after this internship (part-time or full-time)
What won't school give you?
the chance to get an Oracle Certified Java Programmer certification
experience in working on real projects
What do you need?
basics of object-oriented programming, ideally in Java
experience in web application development (at least in school projects)
enthusiasm for new technologies
English language at least at an intermediate level
The internship always takes place from the beginning of July to the end of September in full-time. The first few weeks are rather theoretical, after training you are already working on a real project. We understand that you also want to enjoy the summer and we will reasonably agree with each other on their vacation. The internship is suitable especially for students of the 2nd and higher years of university with a focus on software development.
For candidates we will organize the meetings during May and June, where we will present in detail the course of the internship, test the applicants' technical knowledge and get to know each other more in a personal interview.
You can send an internship application (your CV) throughout the year! In the spring we will contact choosen students and invite them to take part in the recruitment process.
Back
If there's something you don't know or you don't meet everything, we'll be happy to teach you.
Contact
Share
Didn't find a suitable position?
We are able to create one fitting to your skillset!
Contact us!
Contact