Salesforce Developer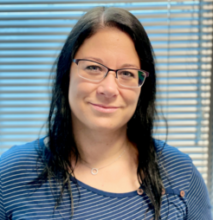 Milena Marková
Salesforce & OutSystems Team Manager
At AspectWorks, I'm in charge of the Salesforce team - from interns, juniors to our senior SF developers and consultants. We are a great group of people who can work, help each other and learn from each other. We are looking for teammates who are tempted to work with high technology on a variety of projects. Your job will be not only writing code, but over time it can also be consulting requirements directly with customers or suggesting a suitable solution.
Contact me at:
milena.markova@aspectworks.com
Are you interested in developing web applications on a modern cloud Java-like platform? Do you want to work in a Czech software-house that is a partner of global technology leaders? Do you like the informal work environment of a company where work-life ballance is not just a marketing motto, but something we really live? Want to find out who Astro, Blaze, Appy or Einstein are in the amazing Salesforce world?
If so, then at AspectWorks we would like to introduce you to our Salesforce team!
On the Salesforce platform, we deliver top CRM as well as other business systems to our customers. It is possible to develop almost anything on the platform. We use the programming language Apex, which is 80% derived from Java.
In addition to object-oriented programming (Java, C, PHP or Ruby is ideal), our developers also need to know JavaScript, HTML, CSS and SQL.
With this tech-stack and our sophisticated training plan, you can develop independently on this platform within a few weeks. And if you already know Salesforce, we will appreciate it!
There were 4 developers at the beginning of our Salesforce team. Today we have about 20 colleagues in the team who also often meet as friends. They are pleased to welcome other developers who pride themselves on code purity and high standards of software development. In addition, it will be great if we understand each other on a personal level.
We know this quite well during the first meeting, after which we can ideally give you a job offer the next day.
So what will you do at this position?
Development and customization of the platform and its integration with surrounding systems.
Implementation of solutions for major clients and partners.
Involvement in other project activities: cooperation on pre-sales activities, analysis of requirements and streamlining of processes, consultation with the client.
And why join AspectWorks?
We will give you the opportunity to be part of one of the largest and most technologically advanced Salesforce teams in the Czech Republic.
We will support you in further education and obtaining necessary certifications.
We will offer you participation in interesting conferences in the Czech Republic and abroad.
You choose the working hours of your choice and take advantage of the home office.
You can take 25 days of vacation, plus sick-days or longer unpaid leave when you want to travel more around the world.
You will get DELL PC or you can use the BYOD system.
You don´t have to go far for a snack or lunch. Two floors below us there is the MB Food canteen.
We also offer standard benefits – meal vouchers, tickets to the Prague Zoo or Pilsen Techmania Science Center, refreshments in the kitchen, Cafeteria program, Multisport card, teambuildings and much more.
Back
If there's something you don't know or you don't meet everything, we'll be happy to teach you.
Contact
Share
Didn't find a suitable position?
We are able to create one fitting to your skillset!
Contact us!
Contact